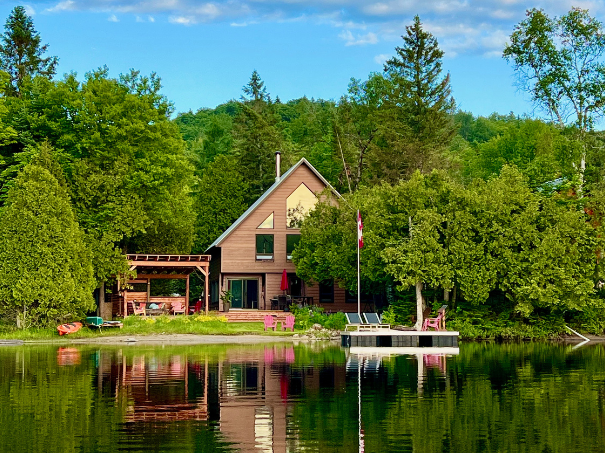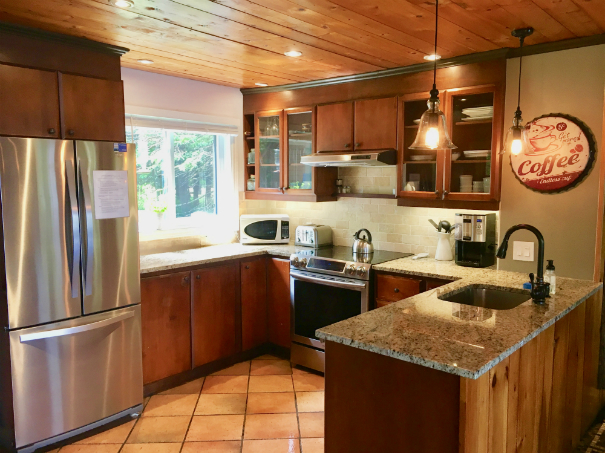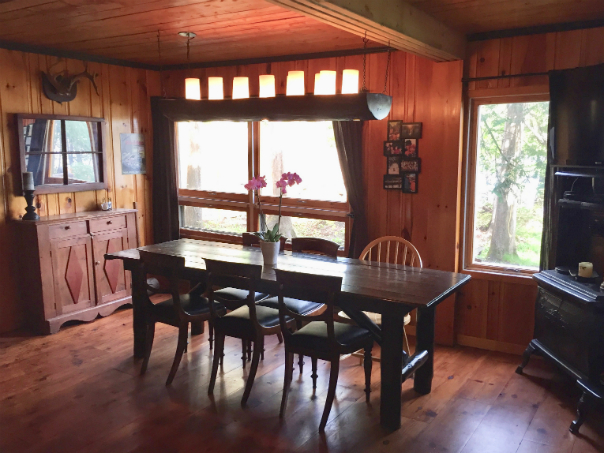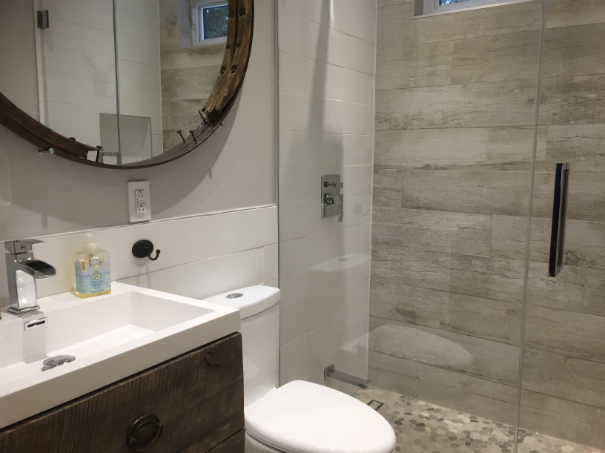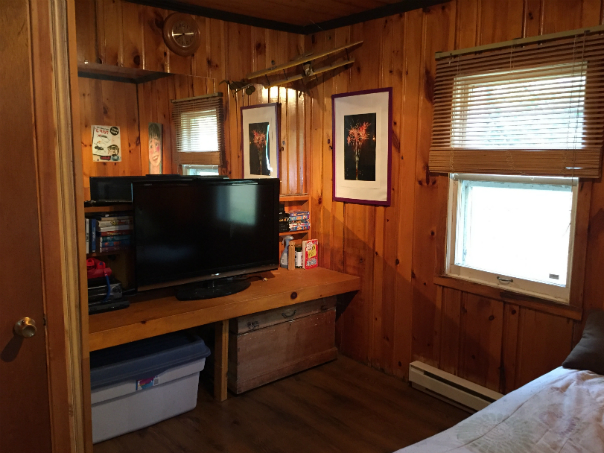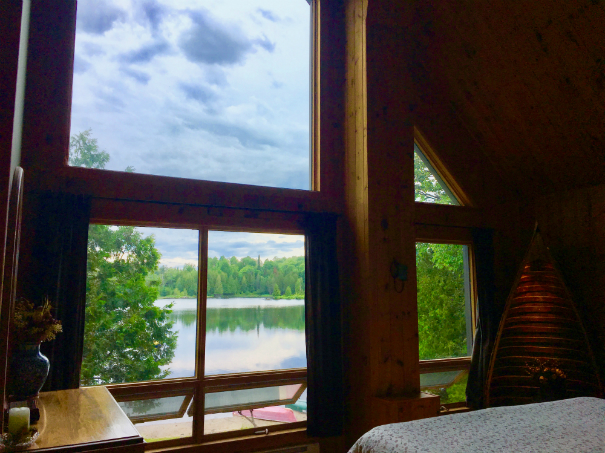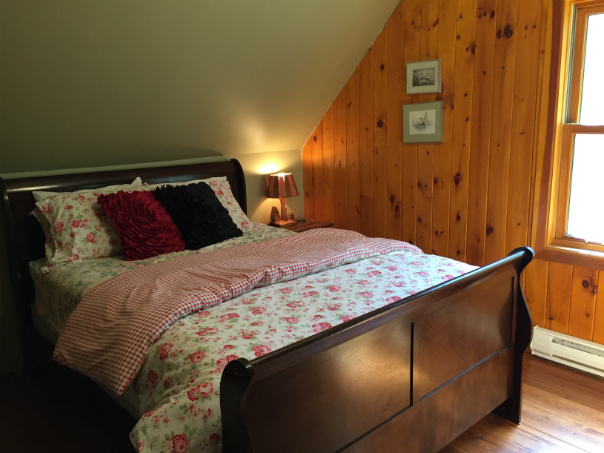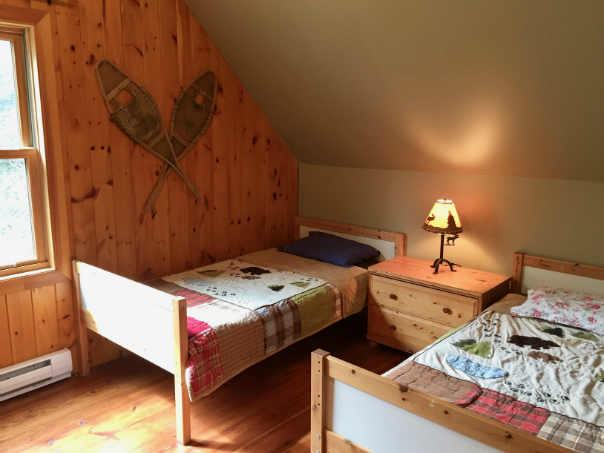 Cottage Amenities

Capacity

Maximum 8 people (children & visitors included)

Beds
1 King-size Bed, 2 Queen-size beds, 2 Single Beds, 1 Porta-Crib
Pillows, Sheets & Blankets
Bathroom
Downstairs Bathroom: Toilet, sink & Shower
Upstairs Bath: Toilet, Sink, Jacuzzi Tub
Washer & Dryer
Entertainment
Living room: Satellite TV, DVD, VCR, AM/FM CD player
Play room: Satellite TV, DVD, VCR
Tons of Videos, DVDs, CDs, Toys & Games
WiFi Internet
Unlimited high speed
Kitchen
Fridge, Stove, Dishwasher, Microwave, Toaster, Dishes, Glasses,
Pots & Pans, Cutlery, Drip Coffee Maker w/reusable filter, Kettle, Booster seat
Outdoor Features
**Boats only available late Spring to late Fall (Aprx MAY – OCT)**

Lakefront (flat entrance), lakeside Dock, Canoe,
Double Kayak, Row boat, SUP, life jackets.
Sunset lounge with couches & chairs, Gas BBQ, Fire-pit,
lawn chairs, swing, hammock, swimming dock
*Sandy Beach. Water deepens gradually. Perfect for young kids!

Local Activities
Summer: Hiking, biking, Boating, Fishing
Winter: Downhill skiing, Cross Country Skiing, Dog Sledding, Snowshoeing, Tubing
Year-round: Fine Dining & Shopping in nearby St-Sauveur
Cottage Rates
Rates (CDN) are for the entire cottage (not per person per night) and include all amenities listed above & general cleaning.

Winter

(Nov 1 – Mar 31)
Weekend (Fri-Sun)
$950 ( $475/night )
Full Week
$3,000
Weeknight (Minimum 2)
$450
Easter Weekend (3 nights)
$1500 ( $500/night )
Christmas Week
$3,300
New Year's Week
$3,500
March Break
$3,300

Early Spring

(Apr 1 – May 30)
Weekend (Fri-Sun)
$900 ( $450/night )
Full Week
$2,800
Weeknight (Minimum 2)
$400
May Long Weekend (3 nights)
$1,500 ( $500/night )

Late Spring (May 1 – June 24)

Weekend (Fri-Sun)
$950 ( $475/night )
Full Week
$3,000
Weeknight (Minimum 2)
$450
St-Jean Long Weekend (3 nights)
$1,500 ( $500/night )

Summer

(Jun 25 – Labour Day) **Full Week Rentals Only**
Full Week (Fri-Fri)
$3,500
Sun-Fri (5 nights)
$2,500
**Construction Holiday (Last 2 weeks of July)**
$3,600/week

Fall

(After Labour Day – Oct 31)
Weekend (Fri-Sun)
$1,000 ( $500/night )
Full Week
$3,000
Weeknight (Minimum 2)
$450
Thanksgiving Weekend (3 nights)
$1,500 ( $500/night )
Looking for a cottage rental in Quebec? On a Lake? Kid-Friendly? Look no further!
At CozyCottages, our Aftica cottage rental is lakefront and very kid-friendly!
This very cozy & comfortable family waterfront cottage is just 1 hour north of Montreal (2 hours from Ottawa), in Quebec's spectacular Laurentian mountains (The Laurentians) in Wentworth-North on Petit Lac Noir.
At the cabin, renters have their own private lakefront with sandy beach. On the waterfront, there's swimming, fishing, boating, local hiking & biking trails, and St-Sauveur water parks just a short drive away.
In winter, the cottage is close to all major ski slopes (Ski Morin Heights, Mont St-Sauveur, Mont Gabriel, Mont Blanc, Mont Tremblant, etc.) There are numerous cross-country ski trails on the lake and in nearby St-Sauveur & Morin Heights. Also close by to the cabin: tubing, dog sledding, fine dining, great shopping, and more!
Rest assured, this cottage rental is CITQ certified!
Characteristics
CITQ Est #207642
Booking Request
**Simply select your dates & submit**
View our Terms & Conditions
Area Map